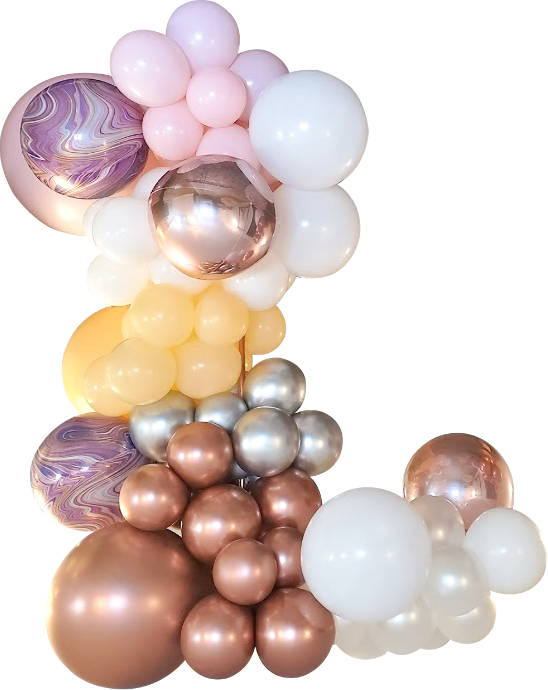 FREQUENTLY ASKED
QUESTIONS
We are based out of Forest Park, IL. We deliver all throughout the Chicagoland area!
We recommend at least two weeks. While we keep a broad inventory, there is currently a global balloon shortage so without proper notice, we cannot guarantee any colors. Any orders placed with less than a weeks notice may be subject to a rush fee.
No. Removal/take down is not included in the price of an install. We are happy to quote removal if you are interested in that. The only exception to this is if we are installing something using one of our frames, in which case the price of removal will be included in your original proposal and we will contact you to let you know when we will come back for take down.
99 Haus Balloons uses the highest quality balloons made of biodegradable durable latex. That being said, we only guarantee our creations up until delivery and installation. Weather, children, animals, foliage and more can have an effect on the duration of your balloons. In the Summer, we typically recommend avoiding installing on asphalt or other dark surfaces and in direct sunlight, as both of these will cause balloons to expand and pop. We do everything we can to make your balloons last as long as possible! Inside, your balloons will last much longer, especially if out of direct sun or heating/cooling surfaces!
Yes! You can call, text or email us at 708.665.5696 or hello@99hausballoons.com
Because we live next to Chicago, and traffic is bad every day of the week, we only guarantee windows of time, even on custom orders. For custom orders, we will have a guaranteed up by time, which is usually 30 minutes before your event begins.
Absolutely not! We only use helium when requested and if required. 95% of our work is air filled.
Once an order is placed, we do not offer refunds. We will allow any orders to be re-scheduled (within 6 months) as long as we have one week notice. All deposits are non-refundable.
Yes! Our workshop is located at 7414 Madison Street in Forest Park. You can schedule pickups M-F from 8am-5pm
We will not. We cannot guarantee the quality of balloons and therefore cannot be held responsible if the balloons you bring us pop when inflating, so we do not offer that service.